The Power b.u. of DEUTZ Italy designs, engineers and builds customized complete propulsion systems and on-board auxiliary generating sets for marine applications with power ranging from 4 up to 4.650 kW. Thanks to exclusive and privileged partners, we are able to offer engines both for "high-speed" (1.500-1.800 rpm) and for "medium-speed" (720-1.000 rpm) applications. All products are certified by the major naval classification bodies.
Along with the engine, we also supply our customers with gearboxes, elastic couplings, shafts, propellers and any other part needed to build a complete propulsion system. The selection of each component and the plant size are engineered together with the customer and guaranteed by the experience gained by DEUTZ Italy in over 100 years of business.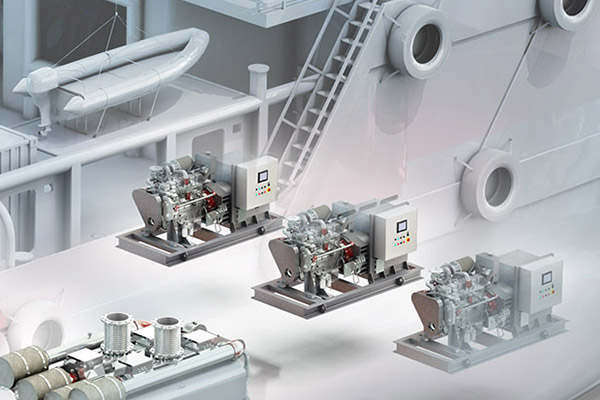 To satisfy on-board electrical needs, IML Power builds customized main on-board generating sets from 30 to 4.500 kWe, available at 50 or 60 Hz, in low or medium voltage, to satisfy on-board electrical needs. They are built and tested in our factory and delivered, upon specific request, already tested and certified by the major naval classification bodies. Sound-proof cabin available.
They can be used for diesel-electric propulsion systems.
IML Power builds emergency and harbour generating sets from 30 to 1.800 kWe, available at 50 or 60 Hz, in low or medium voltage, equipped with air-cooled or radiator-cooled engines (mechanical or electric radiator). Available with sound-proof cabin and a variety of additional accessories. They are tested in our test benches at the presence of the inspectors of the major classification bodies and delivered to the customers with the related test certificates.
Deutz engines and spare parts
Air-cooled (912-914 series) or liquid-cooled (1013M-1015M-2015M series) marine engines with power ranging from 30 to 500 kW, at fixed or variable speed (1.500-2.500 rpm). They can be used for propulsion systems, main on-board and emergency generating sets or other auxiliary systems installed on pleasure or commercial vessels. Deutz marine engines are available with test certificates issued by the main classification bodies and comply with the current exhaust gas regulations.
Niigata engines and spare parts
Niigata marine engines, with power ranging from 761 to over 6.600 kW, at 750-1.000 rpm, are specifically designed for heavy duty naval units, like PSV, tugs, AHTS. Moreover, in the range up to 3.000 kW it is also possible to couple the propeller system to the engine. Z-pellers, built by Niigata, are available both at fixed and variable speed for bollard pulls from 26 to over 100 tons.
Liebherr engines and spare parts
Diesel engines from 130 up to 750 kW for mobile heavy duty machines.
Natural gas or biogas engines from 145 to 516 kWm for cogeneration. The gas engine range includes four in-line models and two V models. Liebherr gas engines are specifically designed to achieve high performances with a mechanical efficiency of 43.8% (DIN-ISO 3046-1) and allow an emission reduction lower than 250 NOx without any exhaust gas after-treatment system.
Service and spare parts for MWM and Deutz-MWM engines
DEUTZ Italy is able to ensure service, spare part supply and technical support for every diesel MWM and Deutz-MWM engines running on the Italian territory. Thanks to its know-how and the expertise of its technicians, DEUTZ Italy is also able to carry out any type of repair work on these engines.