All information at your disposal
MAINTENANCE STICKERS
Maintenance stickers, to be applied directly on the engine or on the machine, provide important information regarding the inspection and the maintenance intervals to be carried out according to manufacturers' recommendation. The compliance with these indications allows a proper engine maintenance and reliability.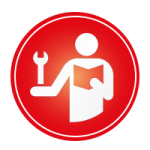 OPERATING AND MAINTENANCE MANUALS
All information needed to ensure a perfect engine operation. The engine operating and maintenance manual includes everything needed to keep an optimal engine status, repair points, list of all the activities to be done, detailed information on main components, recommended liquids and the risks related to an improper use of the engine.
SPARE PARTS CATALOGUE
Every Deutz engine has its relevant spare parts list which allows to identify the parts you are looking for. The spare parts catalogue includes exploded views and illustrations of all parts that can be supplied for your engine.
MATERIAL SAFETY DATASHEETS
Material safety datasheets provide information about a correct use and a safe handling of all auxiliary and operating materials related to our products and also include indications on potential hazards  and  risk management measures. Other important information included in the safety datasheets are the product features, the disposal regulations and the transportation.